To:

The Minister of Oceans and Fisheries
A Moratorium on Fishing of Long Finned Eel (Tuna) Needs to Be Implemented Immediately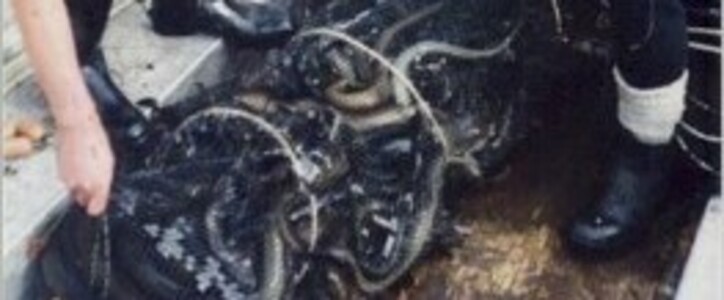 A moratorium/ban on the commercial and recreational fishing of long-finned eel (tuna) and placing the species on the protected species list to save it from extinction.
Why is this important?
"The greatness of a nation and its moral progress can be judged by the way its animals are treated."
- Mahatma Gandhi
"Any threat to the eels are a threat to the identity and mana of the iwi and hapū who have a responsibility to protect them… It is outrageous that people are still catching them for profit."
- Sir Pita Sharples, 2013
"The Government must suspend the commercial catch of New Zealand's longfin eel, and accept the conclusion by Parliament's environment watchdog that the eel is on a path to extinction"
- Green Party spokesperson for conservation and oceans & fisheries., Eugenie Sage, 2016
https://www.greens.org.nz/govt-must-act-longfin-eels-disappear
"Killing a kererū - which is classified as "Near Threatened" - is punishable with a $100,000 fine, and/or up to two years in prison. Yet with the long finned eel - which is classified as "Endangered" – not only can recreational fishers legally take up to 6 day, but killing them is rewarded with somewhere between $10 and $20 per eel on the export market"
- Charlie Mitchell, Environment Correspondent, Stuff, 2019
"https://www.stuff.co.nz/environment/113450351/managed-to-extinction-are-we-at-risk-of-losing-our-creature-of-mystery
"The concern among scientists is that freshwater eel numbers are declining to the point where populations will not possess the critical mass necessary to carry on migration and reproduction. In the 19th century, the North American population of passenger pigeons was estimated to be over six billion, representing 25 percent or more of the total avian biomass of the continent. Even though millions of passenger pigeons were being killed every year, it seemed the resource could never be exhausted. The species went extinct in 1914"
-James Prosek, award winning author, artist and filmmaker, 2010
https://e360.yale.edu/features/a_steady_steep_decline_for_the_lowly_uncharismatic_eel
"Tuna whakaheke deaths are disastrous for the future"
- Hori Kingi, Ngā Kaitiāki o Ngā Wāimāori
https://www.nzherald.co.nz/northern-advocate/news/eels-minced-by-hikurangi-swamp-pumps-dumped-at-council-offices/HIFOC2IWYHNGTM7ZV6E7MXFX4Y/
The long-finned eel (tuna) is endemic to New Zealand. It is an ancient species with a profound connection to our land and its people. It is an iconic and mythical species with an important place in the history and folklore of Māori - with a special traditional role as a spiritual protector of the land, nature and people - as much as the kiwi, kererū, tuatara, Hector's dolphin and the like.
It is categorized by the Department of Conservation as "Declining - At Risk" and yet we are exporting as much as 100 tonnes of them per year as well as allowing recreational fishermen to fish them at will. The tuna is one of the largest eel species in the world. It was once very common in our waters; today, it is endangered, yet we continue to plunder it.
The government has done little meaningful to protect the species, despite prior petitions being presented to them (in 2013). When in opposition, Labour and the Greens supported the proposal of this petition (a moratorium on commercial harvesting) yet when they were elected, little changed.
The tuna is a noble, beautiful, mighty species of creature that deserves a place in the heart of every citizen, just as the kiwi and tuatara. They bring happiness to people when they can see and interact with them in the wild.
At this rate, reserves like Ngā Manu will be the only place to see them, and eventually the species will be gone forever - exactly like what happened (almost) to the American bison and the passenger pigeon, both species which were annihilated from billions of individuals to extinction or near extinction by thoughtless greed in the space of a matter of decades. Surely we are better than that - I think most Kiwis would assume that we are, but our history, and current policies and attitudes with respect to this issue, puts those important values in serious question.
The campaign acknowledges the kaitiaki status of mana whenua/local iwi to best look after tuna. Note that a member of the community representing Eel Activists Wairarapa has made a submission to parliament petitioning for the species of tuna to be granted absolute protection, in light of its endangered status. Please also consider signing this petition here https://www.parliament.nz/en/pb/petitions/document/PET_113510/petition-of-david-famularo-protect-the-longfin-eeltuna
Join the eel conservation Facebook group here https://www.facebook.com/groups/472729636842389/
I believe placing the tuna on the protected species list, like the kiwi, kea, native lizards, native dolphins, and so on, is ultimately the most desirable outcome, but the most urgent step is to place at least a temporary halt on its utterly unsustainable commercial exploitation.
https://e360.yale.edu/features/a_steady_steep_decline_for_the_lowly_uncharismatic_eel
https://www.stuff.co.nz/environment/128521642/threatened-eels-still-being-harvested-for-food-renewing-call-for-commercial-fishing-ban
https://www.stuff.co.nz/environment/113954064/the-dams-the-science-and-the-tiny-industry-clinging-to-life?rm=a
https://www.stuff.co.nz/environment/82056650/pressure-to-ban-fishing-of-longfin-eels-rises-as-industry-faces-upheaval?rm=ahttps://www.stuff.co.nz/taranaki-daily-news/69946047/eels-just-as-worthy-of-protections-as-kereru
https://www.longfineel.co.nz/wp-content/uploads/2011/06/Tuna-Kuwharuwharu-Longfin-Eel.pdf
https://eel-activists-wairarapa.blogspot.com/
https://www.pce.parliament.nz/publications/on-a-pathway-to-extinction-an-investigation-into-the-status-and-management-of-the-longfin-eel
http://www.longfineel.co.nz/extinction-crisis/
https://www.visitzealandia.com/Events/ArtMID/2271/ArticleID/272/Tunaeel-release-to-keep-population-thriving
http://www.longfineel.co.nz/conservation/
https://www.doc.govt.nz/nature/native-animals/freshwater-fish/eels/
How it will be delivered
To the Minister of Oceans and Fisheries, preferably in person or other means as appopriate.