To:

Auckland Council and the NZ Government
Mangawhai Pakiri SOS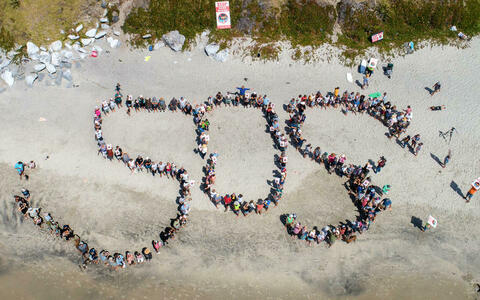 NZ Government and Auckland Council, we urge you to stop the renewal, and granting of new sand mining consents in the Mangawhai - Pakiri Embayment.
Why is this important?
Pakiri & Mangawhai Beaches, two hours north of Auckland are natural treasures. People come to enjoy their glistening white sands, miraculous dunes, precious ecosystems and the rare species that make it their home. It is a taonga for generations to come.
Yet for decades this area has been mined for its white sand. It's the site of the largest single nearshore sand mining activity in the developed world. This sand extraction is causing erosion, threatening the sand-spit, destroying shellfish beds, stealing safe nesting spots from endangered birds and ruining surf breaks. It's home to the Fairy Tern who nest in the sand dunes - only 40 are left now before they become extinct.
Sand miner McCallum Brothers in seeking 3 consents to mine vast quantities of sand - 9 million cubic meters over a period of 35 years! To imagine how much this is, take a 1m cubed box of sand, line up 9 million of them - it's the length of 6x New Zealand.
We urgently need your support, if enough of us raise our voices we can send a powerful message to council that we want sand mining to stop.
No other developed country allows nearshore sand mining – help to stop this madness and ensure guardianship of this beautiful coastline.
Please:
1. Sign and share this petition to say no to sand mining of Mangawhai-Pakiri Embayment now!
THANKS FOR YOUR SUPPORT
Save our Sands (Mangawhai Harbour Restoration Society, Friends of Pakiri Beach, Te Whanau o Pakiri, Tangata Whenua, locals and concerned New Zealanders) are taking a stand and we need your help!
This petition is in support of, and in partnership with the Friends of Pakiri Beach who are also collecting signatures and submissions here: https://our.actionstation.org.nz/petitions/save-pakiri-beach-from-sand-mining
References:
Pakiri locals fight plans to take their sand for Auckland beaches, RNZ, May 2021 https://www.rnz.co.nz/news/in-depth/441849/pakiri-locals-fight-plans-to-take-their-sand-for-auckland-beaches
https://www.nzherald.co.nz/northern-advocate/news/ecologically-significant-mangawhai-sandspit-at-risk-from-sand-mining-northland-regional-council/BZCWODYKYBSOM2S6GOFPAHIPZU/
How it will be delivered