To:

House of Representatives
Bring back the Container Return Scheme!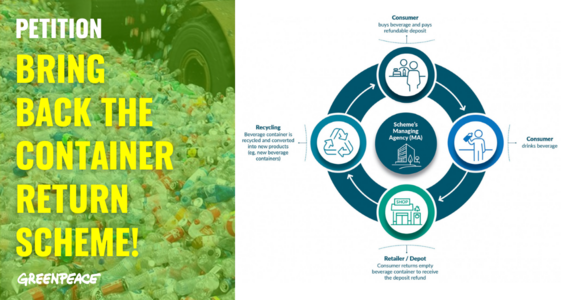 I call on the New Zealand House of Representatives to bring back the Container Return Scheme.
Why is this important?
After years of pressure from the environmental movement, the Labour Government under Jacinda Ardern finally agreed to introduce a beverage Container Return Scheme to help eliminate single-use plastic waste.
The scheme would have had enormous benefits for hapū, iwi and community groups, and the environment. It would have meant higher recycling rates, more reuse and refill opportunities, less plastic pollution and less waste to landfill. It would have created green jobs within our local communities.
The plan has huge public support despite years of sustained and targeted lobbying from beverage and packaging producers. But on 13 March 2023, Prime Minister Hipkins inexplicably announced that he would defer the plan to an undetermined date. The PM has for no reason dumped a great plan to deal with plastic pollution.
All the work on implementing a comprehensive Container Return Scheme has already been done, and with the flick of a switch, our Prime Minister could be back on the right track.
Sign on now to call for the scheme to be restored!
🐬 Bottle refund scheme "breakthrough for plastic crisis" https://www.greenpeace.org/aotearoa/press-release/bottle-refund-scheme-breakthrough-for-plastic-crisis/
🐬 Scrapping Container Return Scheme a grave error https://www.greenpeace.org/aotearoa/press-release/scrapping-container-return-scheme-a-grave-error/