To:

Ministry for the Environment
Make a submission to support a beverage Container Return Scheme for Aotearoa
23 May 2022: The deadline for submissions ended today! We'll be in touch with updates when Select Committee reports back.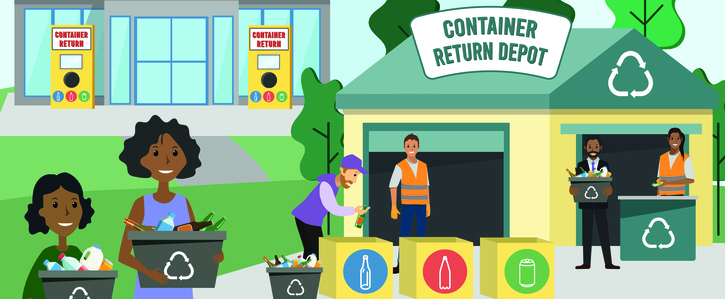 The New Zealand Government is consulting with the public on a proposal to set up a beverage Container Return Scheme (CRS) for Aotearoa. Now is the chance to have your say!
A beverage Container Return Scheme will have enormous benefits for our community, whenua and moana (land and oceans); higher recycling rates, more reuse/refill, decreased litter, and green jobs for local people.
Kōrerotia mai ōu nei whakaaro.
Have your say by signing this submission to support the government implementing a fair and comprehensive Container Return Scheme for Aotearoa. We've drafted a template to make it super easy: simply add your details and click "Send Message" or feel free to edit it with a personal message.
It's important our voices are heard!
Why is this important?
After years of campaigning from community groups, waste minimisation experts and with support from local government and the Environment Select Committee, the Kiwi Bottle Drive and allied organisations Zero Waste Network, Para Kore, Greenpeace, the Rubbish Trip and the New Zealand Product Stewardship Council are delighted with the government's proposal to finally implement a Container Return Scheme in Aotearoa New Zealand!
The proposal currently out for public consultation includes most of the key points we have been advocating for, such as a 20c deposit, the inclusion of all materials, and convenient and accessible collection points.
There is room for improvement in a few areas: to keep things simple and fair, milk and refillables should be included in the scheme and more power must be given to community and social enterprises, with particular regard for Māori-led initiatives, rather than handing the Container Return Scheme to industry to lead.
We have the chance now to make a few tweaks and develop the best Container Return Scheme for Aotearoa: a simple, comprehensive Tiriti-led scheme that will increase the circularity of beverage containers, ensure producer responsibility and deliver maximum benefits to the community.
Add your voice to the group submission now!
*If you prefer, you can make a submission directly through the government website, where you can also read more about the proposals: https://environment.govt.nz/what-government-is-doing/areas-of-work/waste/container-return-scheme-reducing-waste-landfill/