To:

The New Zealand House of Representatives
#TakeawayThrowaways for food and drink: End single-use, return to reuse
May 2022: We delivered the Takeaway Throwaways petition to Parliament, bringing the voice of more than 10,000 New Zealanders to our elected representatives. The petition was received by the Minister for the Environment, Hon David Parker.
You can watch a video of the petition handover event here: https://vimeo.com/713208857/0915fe6259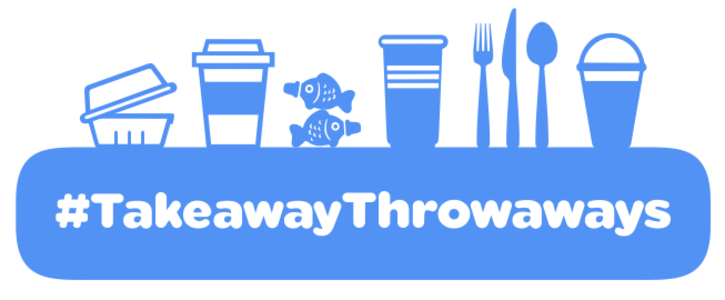 Call on the Government to ban single-use disposable food and drink serviceware containing plastic (including degradable, biodegradable or compostable plastic), and mandate co-designed, accessible, reusable alternatives instead (using powers under the Waste Minimisation Act 2008).
#TakeawayThrowaways #ReturnToReuse
Here in Aotearoa New Zealand we love te taiao, Papatūānuku, Ranginui me ō rāua uri, the natural environment, beaches, rivers, mountains, ngahere, flora and fauna. We also love the excellent kai, drink and coffee available in eateries, markets, towns and cities across the country.
We want to enjoy these things without all the single-use disposable takeaway food and drink packaging and the mess it causes. We're talking things like single-use disposable takeaway coffee cups and lids, food containers, cutlery, and single-serve sauce and condiment sachets and pottles, including soy fish, sugar and ketchup sachets, and jam/spread pottles.
Under existing legislation, the Government already has the power to ban these single-use plastic products, replace them with accessible, reusable alternatives, and require those alternatives are co-designed by multiple stakeholders to ensure they work for everyone. You can read more about policy pathways for achieving these outcomes, and models and examples of effective reuse systems at http://www.takeawaythrowaways.nz/
Why is this important?
Aotearoa New Zealand has a waste problem that we can't recycle our way out of.
Single-use disposable serviceware belongs to the outdated 'take-make-dispose' linear economy, which accelerates our global and local waste crisis, fills up our landfills to produce methane and toxic leachate, and increases litter pollution. Extracting natural resources to make endless streams of single-use items is also unsustainable in the face of resource depletion and climate change, which threaten the planet's mauri (life-force) and our mauri as descendants of the planet.
We need visionary personal, business and policy solutions that prevent and reduce waste in the first place, and that replace throwaways with non-toxic reusable alternatives that work for all people. These upstream solutions will create less waste and fewer greenhouse gas emissions than recycling, composting or landfilling.
Transitioning to a circular economy won't be easy; it makes sense to start with low-hanging fruit. While some single-use items remain unavoidable for some applications (such as certain medical contexts, accessibility needs or civil emergencies), most single-use disposable serviceware for food and drink is relatively easy to prevent if we choose to reuse.
Many individuals, businesses and communities in Aotearoa New Zealand are already embracing reusables. We can take this further and mainstream reuse with Government policy that removes throwaway options and replaces them with scaleable and accessible reusable alternatives.
We recognise that single-use disposable serviceware often has accessibility-friendly characteristics that enable the independence of people with access needs, including the disabled community, the elderly and young children. Reusable alternatives must balance environmental outcomes with the need to maintain and promote accessibility. Government and business must work meaningfully alongside people with access needs to design products and reuse systems that incorporate universal design principles to function well for everyone. For more information, see the Takeaway Throwaways campaign website.
*The time to be bold is now. Ko tēnei te wā.*
Until recently, phasing-out throwaway food and drink packaging and serviceware would have seemed radical. However, times are changing. New Zealanders want more action on waste. Banning plastic shopping bags was a first step. New proposals to phase-out PVC and polystyrene takeaway cups and containers prove the Government's willingness to take action on waste.
The time has come to be more ambitious: we must tackle the root of the problem, which is the single-use mindset, not the particular materials involved. The Government has a role not only in taking away a wider range of throwaways, but in boosting the availability and uptake of accessible reusables. When combined, these two actions have the power to mainstream reuse.
Ultimately, we are all responsible as kaitiaki for Aotearoa New Zealand and the global environment we depend upon. With integrity, determination, and a collaborative and inclusive spirit we can transform how we serve food and drink 'on the go', move our country towards true circular, zero waste solutions, and cast ourselves as a bold, global leader committed to a healthier, greener, more caring and connected world.
Follow the Takeaway Throwaways campaign and get involved:
http://www.takeawaythrowaways.nz/
http://www.instagram.com/takeawaythrowaways
http://www.facebook.com/takeawaythrowaways